Cadbury World Review and Visiting Tips
---
Cadbury World review and visiting tips following our visit with the nations favourite chocolate maker.
A cup of pure molten chocolate from the nations favourite chocolate maker was just one of the delights we enjoyed during our visit to Cadbury World in Birmingham.
With a place in our family history, and Cadbury chocolate being a favourite, a visit to Cadbury World had been on our to-do list for a while.
So, during an inset day in May we finally got to tick it off our ever growing travel list and savour many chocolate delights in the process.
Find out how we got on and pick up a few visiting tips in our review.
What is Cadbury World?
---
When you first think of Cadbury World you could be forgiven for expecting to see Gene Wilder at the gates to Willie Wonker's Chocolate Factory about to take you on a wild ride of fantasy.
Now, while there isn't an Umpa-Lumpa anywhere to be found (and we looked). What you do get at Cadbury World is a fascinating journey through the history of chocolate.
Covering in good detail how it is made and how the Cadbury family made it the nation's favourite.
This is delivered through, mostly, interesting tours and exhibits.
Plus, there are chocolate themed rides, a 4-d cinema, interactive learning areas and a great children's playground.
Read on to learn more.
Our day at Cadbury World
---
Here is a summary of our day at Cadbury World to help you learn what is on offer and if it is right for you.
if you are not interested in how our day went then just scroll down to the visiting tips.
The self guided tour at Cadbury World
---
The self guided tour at Cadbury World started in the best way possible for us, with a member of the Cadbury team giving each of us a very generous collection of delicious Cadbury chocolate bars.
We just about managed to resist the urge to sit down and eat them all and instead went through the velvet curtains to start learning more about the history chocolate and Cadbury on the self guided tour.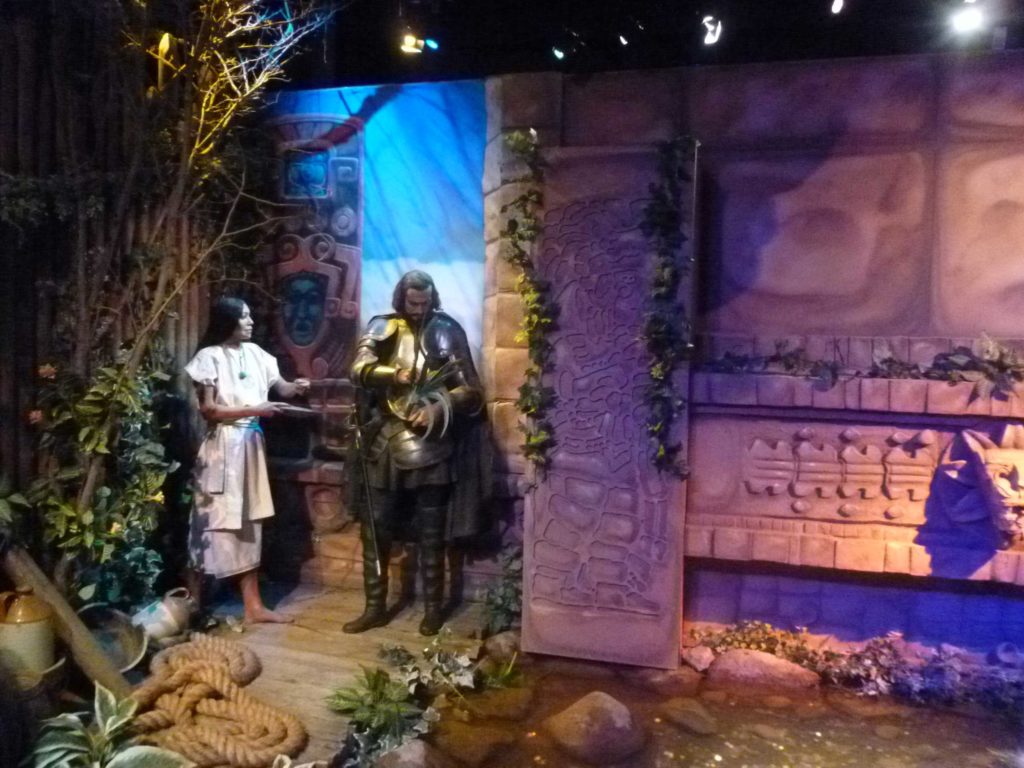 As we passed through the curtains we found ourselves in the heart of the Amazon basin in the time of Maya Indians and Aztec civilisations.
These civilisations are the ones who first discovered the power of chocolate.
Both as an ingredient (to drink) and a commodity to trade.
As we strolled through the village we came across the arrival of the Conquistadors who recognised the value in chocolate and began trading with the locals and shipping chocolate back to Europe.
We then jumped through time to see how chocolate established itself in Europe.
We learned that it first hit England around 1650 after starting off in Spain and moving across Europe.
Just like in the Amazon it was used mainly in a hot drink and there was still no signs of our beloved Cadbury chocolate bar.
This part of the tour was told with the use of video holograms and the kids really enjoyed racing from area to area to hit the play button.
The holograms themselves were good quality and presented the story of chocolate in Europe very clearly and concisely.
So, you were never stood around in one place for too long giving the kids a chance to get bored.
The next phase of the tour was all about the development of confectionary and the invention of the chocolate bar by Fry & Sons around 1847.
At the same time John Cadbury was growing his business that started as a convenience store and by the time the first chocolate bar appeared had moved into manufacturing with a focus on cocoa products.
We then learned about a series of innovations in the Cadbury factory that eventually led to the production of the first Cadbury Milk Chocolate bar in 1975.
This was all told with interesting displays and even a sit down interactive cinema experience that took us through the chocolate bar production process.
Next, we moved on to the modern factory, Cadbury product development and some of their memorable advertising campaigns.
The Modern Cadbury Factory
---
Unfortunately, the modern Cadbury factory tour at Bournville was a bit of a disappointment.
We had vision of seeing chocolate machines turning delicious melted chocolate into many bars and treats.
However, a lot of this part of the tour seemed to involve walking through long corridors and the occasional glimpse of a packaging machine.
However, Cadbury seem to recognise that this part of the tour is somewhat lacking in information and entertainment.
So to spice it up a bit at the end of the modern Cadbury factory tour we were treated to a demonstration of chocolate tempering and decorating.
This involved shaping warm chocolate into interesting shapes on a slab of marble.
Then we watched the team expertly decorate the chocolate as it cooled.
The items being worked on were chocolate teapots (yes, they get the joke), footballs and high heeled shoes and were very impressive pieces of chocolate art.
This area also included one more treat.
A cup of molten Cadbury chocolate and it was delicious.
Next up was a stroll down Cadbury street to see a Gorilla playing the drums.
Classic Cadbury Adverts on Cadbury Street
---
The next part of the tour was a trip down TV memory lane.
It was a whole area dedicated to the memorable adverts of Cadbury chocolate over the years.
Strolling through seeing familiar branding, logos and videos was like some quirky biography of our lives.
With each advert we (Travelbetter mum and me) could remember how old we were and what was happening around that time.
It was simply fascinating, plus the kids enjoyed this section looking and laughing at some of the imagery and funny sets.
Then we came across a large gorilla sat behind a set of drums and Travelbetter Girl and Boy were captivated.
They were routed to the spot as the gorilla played the memorable drum section from the Phil Collins song "In the Air Tonight".
Just check out our video above to get a reminder of the Cadbury drumming Gorilla.
Hands on fun at Cadbury World
---
Eventually, we managed to drag the Travelbetter kids away from the Cadbury drumming gorilla and found ourselves in a room full of interactive and hands on exhibits.
The kids loved this, running around and learning more about how chocolate is made.
We spent time on each activity and this was a great chance to let the kids run and jump around which is something they love to do.
Rides and experiences at Cadbury World
---
Next on the Cadbury World tour was grabbing some food, more on this later, followed by a ride on the Cadbury car ride and a trip to the 4D cinema.
The Cadbury car ride was a fun and gentle ride through a chocolate fantasy land.
It was all nice and bright and suitable for children of a very young age.
We walked straight onto the ride but there were plenty of signs warning of queuing times up to 30 minutes.
Not too bad when compared to Disney or Alton Towers but with not much to do in the queue you may want to think about timings if visiting during the school holidays.
If in doubt, ask one of the Cadbury team who can advise on the best times to ride the car.
Next up was the 4D cinema experience.
This was located just outside the factory by the play parks and where we had our longest wait of the day of roughly 20 minutes, but this was due to just missing a sitting.
The 4D cinema experience was a lot of fun and centred around joining Freddo Frog on a journey through a magical chocolate land.
This journey included enjoying plenty of thrills, all from the safety of your cinema seat.
A cinema seat that moved around but never with too much of a bump or anything to frightening for little ones.
Following on from the rides and time in the playground our trip to Cadbury World came to end with a visit to the Cadbury World Factory shop.
This shop was a place full of chocolate bargains.
For more information on the shop and visiting Cadbury World keep reading.
Visiting Tips and Helpful Information about Cadbury World
---
The following section contains helpful information, hints, and tips to make your trip to Cadbury World an easy and entertaining experience.
Is Cadbury World Child Friendly?
---
Yes, Cadbury World is very child friendly and suitable for ages from 2 to 12.
All the attractions are suitable for little kids and also included in the site are two playgrounds. One for 2-5 year olds and one for older kids which is very handy as often one play area together can make you wince as your four-year-old is pushed aside by an over excited eight-year-old.
Is Cadbury World for Adults
---
Cadbury world has enough interesting exhibits and attractions to make it a fun day out for adults with or without kids.
However, if you aren't that fussed or interested in chocolate then it probably isn't for you.
What's the food like at Cadbury World
---
The restaurant at Cadbury World is a pretty typical self-service restaurant with a reasonable selection of food on offer.
Naturally, the choices also include a few with a chocolate twist such as the chocolate chilli-con-carne on a baked potato, that Travelbetter Mum and I enjoyed.
The Cadbury World restaurant also has plenty of the usual, and safe, choices for children including a sandwich meal deal and simple food like sausage, beans and chips.
One other item on offer that sounded really nice was an indulgent chocolate cream tea. However, for some strange reason this wasn't available for families.
The restaurant was clean and bright with plenty of seating.
It had a few TVs dotted around the walls showing classic Cadbury television adverts from years gone by to keep everyone distracted and there was also a big purple and white cow to keep the kids entertained while we enjoyed our hot chocolates.
However, a play area would be a useful addition to this section. Especially if it allowed the grown-ups the chance to enjoy the Cadbury chocolate cream tea while the kids could run around safely.
The Cadbury World Factory Shop
---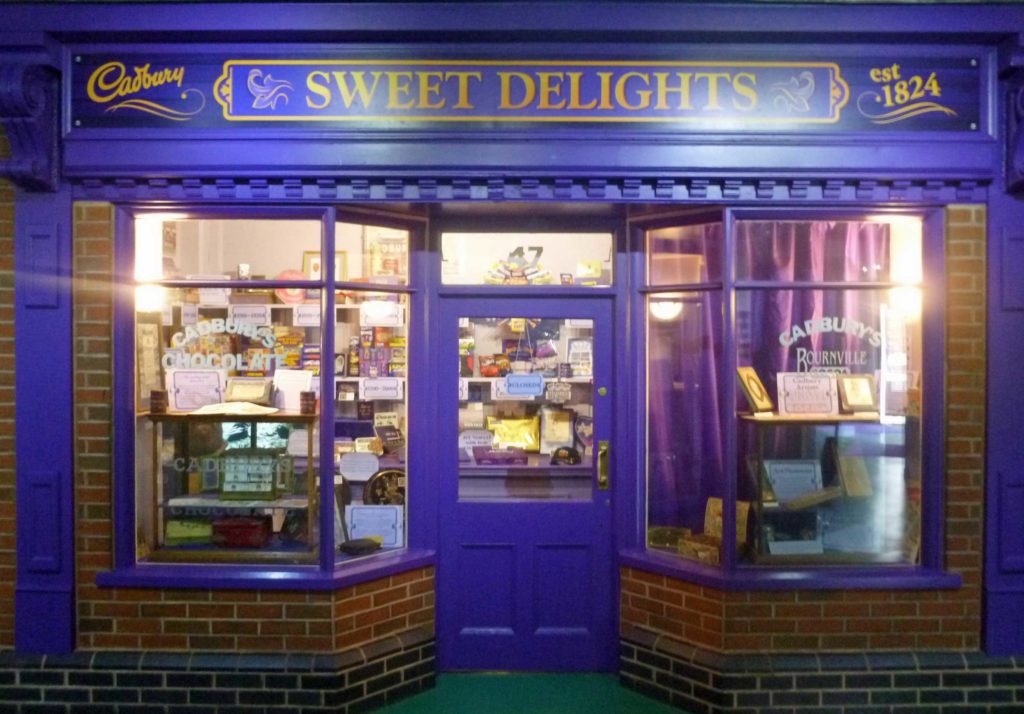 Cadbury World includes a large shop with many Cadbury branded products ranging from toys to collectables.
Off course, the main attraction in the Cadbury World shop is the wonderful amount of chocolate on offer and all at great prices.
Especially if you buy in bulk!!!
Also, you don't actually need to be visiting the whole of Cadbury World to visit the shop and can just drop in to bag a chocolate bargain or three.
As chocolate lovers we couldn't help but buy a few tasty treats but we also treated ourselves to a fun little Cadbury car.
If all this talk about buying chocolate is making you hungry and you can't wait for your visit to Cadbury World then grab one of these tasty chocolate treats.
Free chocolate at Cadbury World
---
Is there free chocolate at Cadbury World? Yes, you get a very generous handful (each) of chocolate as you start you tour at Cadbury World.
The hard part is trying not to eat it all straight away.
When is the best time to visit Cadbury World
---
Cadbury World is open all year round but if you can try to visit on an inset day like we did as you will face longer queuing times for certain attractions at other times of the year.
Location and how to get to Cadbury World
---
Cadbury World is built within the original Cadbury Chocolate factories in the area of Bourneville about a 15-minute drive from Birmingham city centre.
The best way to reach Cadbury World is by car with Birmingham accessible from the M5 and M6 motorways and there is plenty of parking on site.
If you are travelling by public transport Birmingham New Street can be reached by rail or coach where a bus or taxi can be taken to Cadbury World.
Alternatively, you can take a train to Bourneville station and Cadbury world is a 15 minute walk.
Is Parking Free at Cadbury World
---
Parking is free at Cadbury World
Accommodation at Cadbury World
---
While Cadbury World does not offer any accommodation options there are plenty of great choices nearby.
To help you with your search we've listed some of the best hotels within 10 miles of Cadbury World.
How much does is cost to visit Cadbury World
---
Cadbury World has a range of tickets on offer with the added bonus of family packages for families of four and five.
Plus, on cereal boxes and national press you can often find Cadbury 2 for 1 ticket deals so be sure to keep your eyes out in the Supermarket.
The following prices were updated 16/11/2021
An adult ticket costs £19.00
Children aged 4-15 years £14.00
Senior citizens £16.00
Children under 4 are free
Family ticket for 2 adults and 2 kids £57.00 (£14.25 each)
Family ticket for 2 adults and 3 kids £68.50 (£13.70 each)
You must pre book your ticket to Cadbury World before you visit.
Cadbury World Discount Code
---
As well as looking in the national press for Cadbury World deals be sure to check out the discount voucher sites for deals.
Classic Cadbury Chocolate TV Adverts
---
Take a trip down memory lane with these classic Cadbury chocolate TV adverts.
This advert for Cadbury crunchy aired between 1990 and 1994.
This Cadbury advert with Dancing Eyebrows aired in the IK in 2009.
This advert for Cadbury Caramel aired in the 1980's in the UK.
The how do you eat yours series of adverts from Cadbury to promote their annual Easter fave the creme egg.
Pin our Cadbury World Review and Visiting Tips
---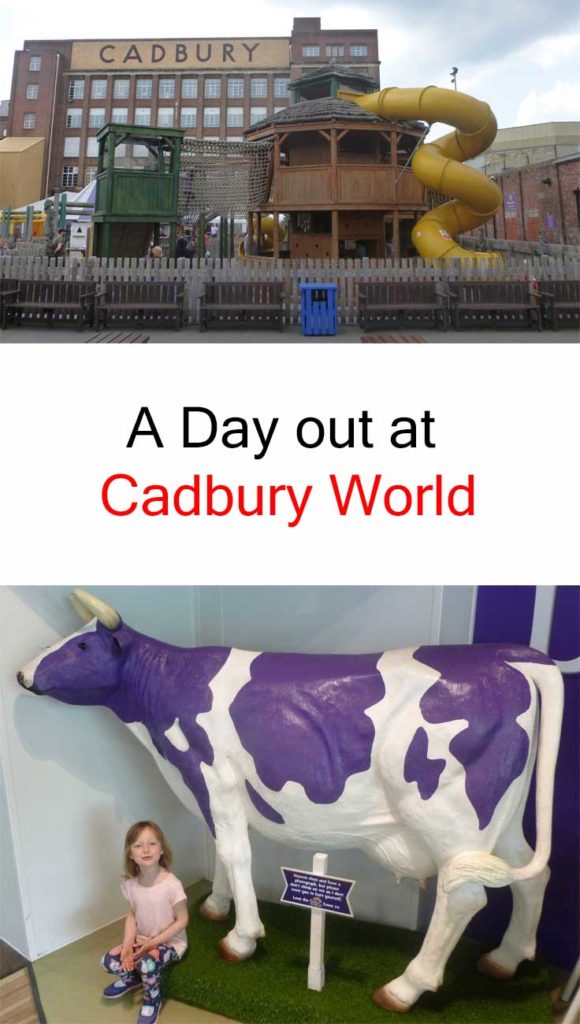 More from Travelbetter
---
Take a look at some of our other guides and posts to start travelling cheaper, better and more often.
Cadbury World Review and Visiting Tips – Affiliate Disclaimer
This Cadbury World Review and Visiting Tips includes affiliate links to Amazon UK. If you click on a link and make a purchase we may receive a small commission. This commission goes towards the running of Travelbetter and helps keep us an independent travel advice site. Thank you for your continued support.