Review of Folly Farm Campsite in Winchester following our recent stay
Review of Folly Farm Campsite.
As early as March this year the Travelbetter kids were asking when we would go camping again.
Kids just love camping and I'll be honest that while we weren't that interested in camping before kids, since having them we have grown to really enjoy camping trips. It still isn't top of our list for family travel experiences but it has made it into the top five so as soon as we could I granted the kids wish and took them camping.
Travelbetter Mum and Baby were going to sit this one out due to the predicted cold weather and I didn't want to go too far for the same reason so we opted for a night at Folly Farm Campsite in Crawley near Winchester.
So on Saturday morning I loaded the small tent and what seemed like a ton of equipment and food (for one night!). Then me and Travelbetter Girl and Boy headed to Folly Farm.
Our first impression of Folly Farm Campsite
---
My first impression of Folly Farm Campsite started with the booking process. This was easily done via their website and not long after sending an enquiry David emailed me back to confirm the booking and provide payment information. This note also included useful advice for our stay and clear driving instructions to the campsite.
For the Travelbetter kids their first impression came as we entered the campsite after we quickly registered with David in the reception building.
While the park was surprisingly busy the kids were impressed with the lovely flat ground to run around in, the large open spaces and the small play park on site.
Plus, each pitch was clearly marked so no worries about you encrouching on other peoples areas which made it nice and simple to park up and get our tent set up.
The reality was that the park wasn't too busy it was just that only two of the fields were open to camping and were largely filled up but you still had plenty of space in each pitch.
How we spent our time at Folly Farm
---
As we were only camping for one night we had no intention to go off and explore the local area and instead spent the afternoon and much of the evening playing football and other games while fitting in a BBQ and Marshmallow Pops during the fun.
While last years trip with Travelbetter Boy was super easy it wasn't quite such smooth sailing with both Travelbetter kids.
The main point of contention is that Travelbetter Girl and Boy seem to be into different things and it was tricky to get them to play together or for me to play with either one without the other one getting annoyed or feeling left out. For example, Travelbetter Girl wanted help doing handstands and Travelbetter Boy wanted to play football (surprise, surprise!) but I struggled to get them to take turns doing both and this is something we need to work on for the future as it was a bit sad that they didn't want to play together and made it difficult for me as it lead to arguments about who I was going to play with.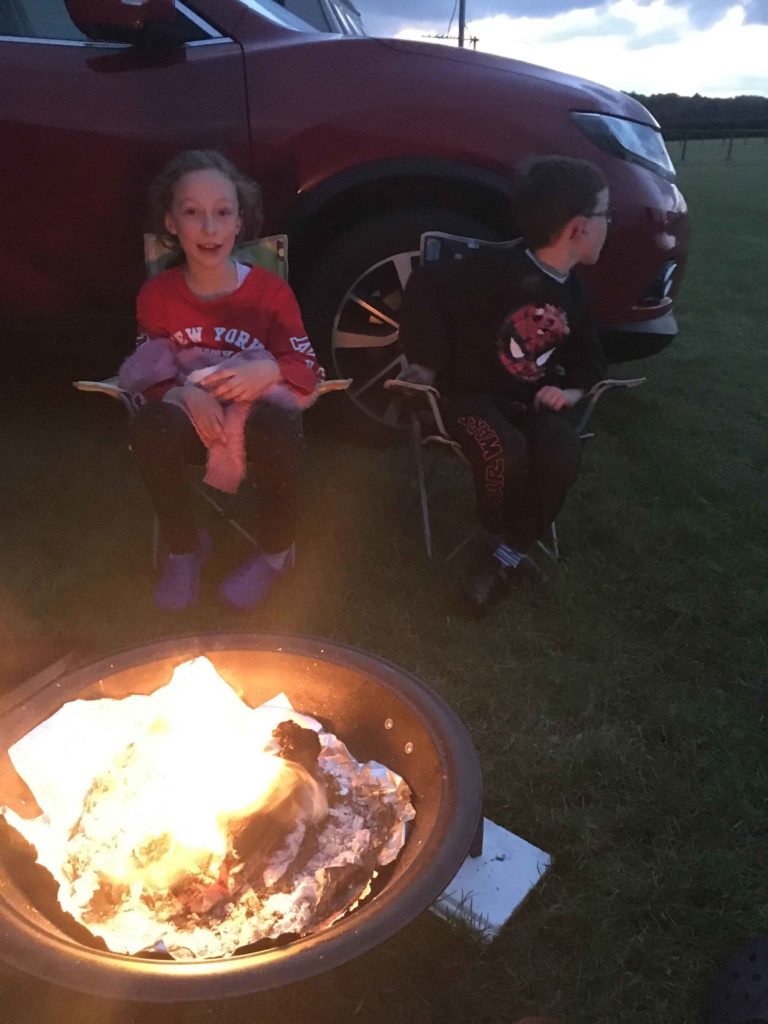 Still, we had lots of fun and outdoor time and at one point I even got to sit down for a full ten minutes which was nice as I marvelled at the 25k steps I had done that day! But getting outdoors and having fun is what camping is all about to us and Folly Farm delivered on this.
We eventually crashed out at around 10pm and slept on and off until about 4am to be woken up by the dawn chorus and the morning sun streaming into the tent. This is one of the downsides of camping that we've yet to solve. I am tempted to try ear plugs and an eye mask but I like to be able to check on the kids in the night and hear them so don't think it is an option for now.
One more thing we loved doing while at Folly Farm Campsite was checking out the variety of campervans and caravans around us and we all fell in love with this tiny Micro Caravan that just looked like such an easy and fun way to camp but in a bit more luxury than a tent.
For now however they are out of our price range but I might keep looking and if you click the link above you can see there is quite a second hand market for them so you never know….maybe next year we will be on our adventures in the Travelbetter Caravan.
The facilities at Folly Farm Campsite
---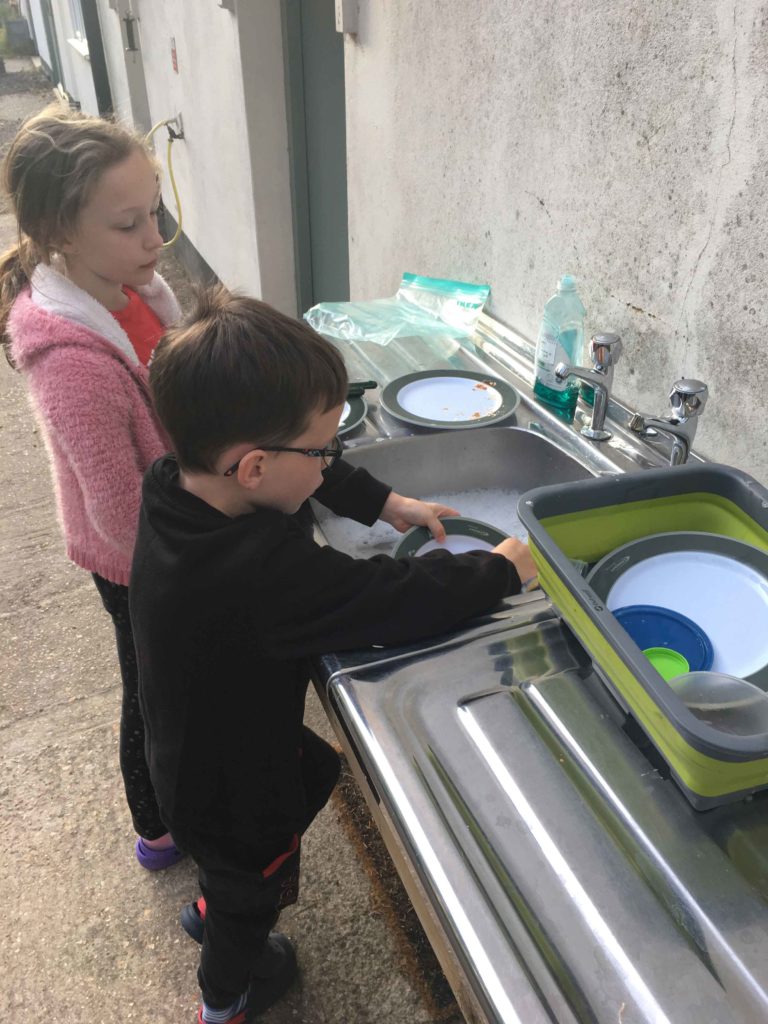 The toilet and shower block at Folly Farm was found in a dedicated building next to reception.
This made it a bit of a walk from the campsite but they were in good condition and very clean.
There were also two sinks outside the block for washing up and one sink inside.
We couldn't see anywhere to leave an ice pack overnight which was a suprise. There was a fridge but no obvious freezer. However, we didn't ask so it could well have been somewhere we weren't looking.
There were also plenty of drinking water points about the campsite so you never had to go far to fill up your camping kettle or water container
BBQs and Fire Pits at Folly Farm Campsite
---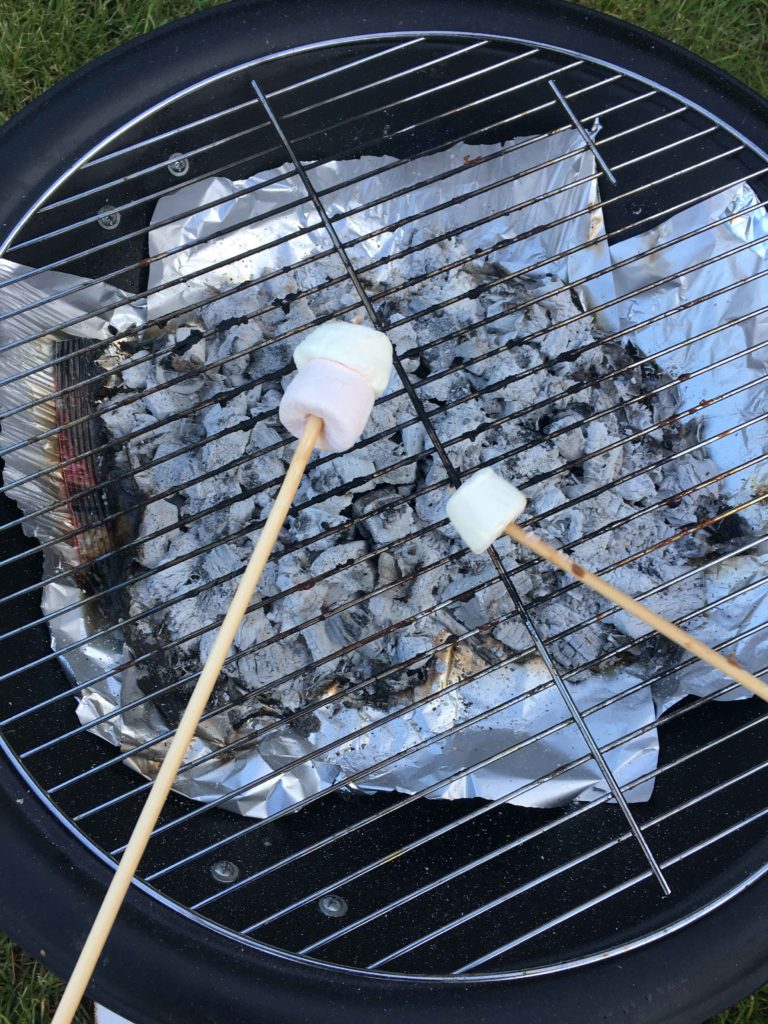 BBQs and portable fire pits seem to be the norm now for family camping trips and we really like using ours and we were pleased that you could use them at Folly Farm. Additionally, they also provided blocks and bricks for your use to protect the grass which was a nice touch and one of the reasons the lawns at Folly Farm were so nicely kept.
On my way home from work Friday night I dropped into the Range quickly as they always have a fun collection of BBQ and Camping supplies at this time of year and at a good price. I picked up an instant BBQ bag and a firelog for use afterwards to keep us warm as the sun went down.
I've had mixed results with instant BBQs in the past but I was pleased with this bag as it worked well and allowed me to cook our dinner and still provided enough heat for Marshmallow roasting
The play area at Folly Farm Campsite
---
The play area at Folly Farm was a fun and well maintained area for kids to enjoy.
It had a wooden hut, an outpost style building, three swings, a slide and a goal. The last one being a real bonus for our football mad boy.
A really nice touch was that all the swings were adjustable so you could set them to the right height for your kids and this made the park area accessible to a variety of ages.
Additionally, the play area includes a nice picnic bench for people to sit at and enjoy fantastic views across the countryside while their kids play.
Of course I didn't get the chance to sit down at the picnic bench as I was busy playing football with Travelbetter Boy while simultaneously on a secret spying adventure with Travelbetter Girl but I did get to enjoy the views and grab a picture while having fun playing.
Is Folly Farm Campsite Family Friendly
---
With the open space and play area Folly Farm is a very family friendly campsite. You do get a mix of people camping at the site but there were clear rules about noise cut offs, animal control, plus David and Mariette live on site as well so would be able to deal with any issues in the unlikely event they should occur.
Conclusion
---
While I need to work on getting the kids to play together more overall we had a great camping adventure at Folly Farm.
Folly Farm is a well maintained and family friendly campsite in a great location for exploring Hampshire. It has good size pitches and good facilities to help make your camping adventure easy.
How to get to Folly Farm Campsite
---
Folly Farm Campsite is best reached by car and when you book David and Mariette provide you with clear driving instructions.
The address of Folly Farm is
Folly Farm Caravan Park
Crawley
Winchester
Hampshire
SO21 2PH
The follow map provides directions to Folly Farm from the M3.
How to book Folly Farm Campsite
---
Booking a stay at Folly Farm campsite is easy and can be completed via their website with prices starting from around £22 per night which is what we paid for our one night stay.
Learn more about Family Camping
---
Wondering how to get started with family camping adventures, or looking for campsite recommendation or maybe some great camping recipes? Then take a look at the Travelbetter Camping Guide.
Pin this post
---