Shopping Guide To The Best Travel Jewellery Case for your next adventure
Make sure you read our guide to finding the perfect Travel Jewellery Case or Organiser for your travels.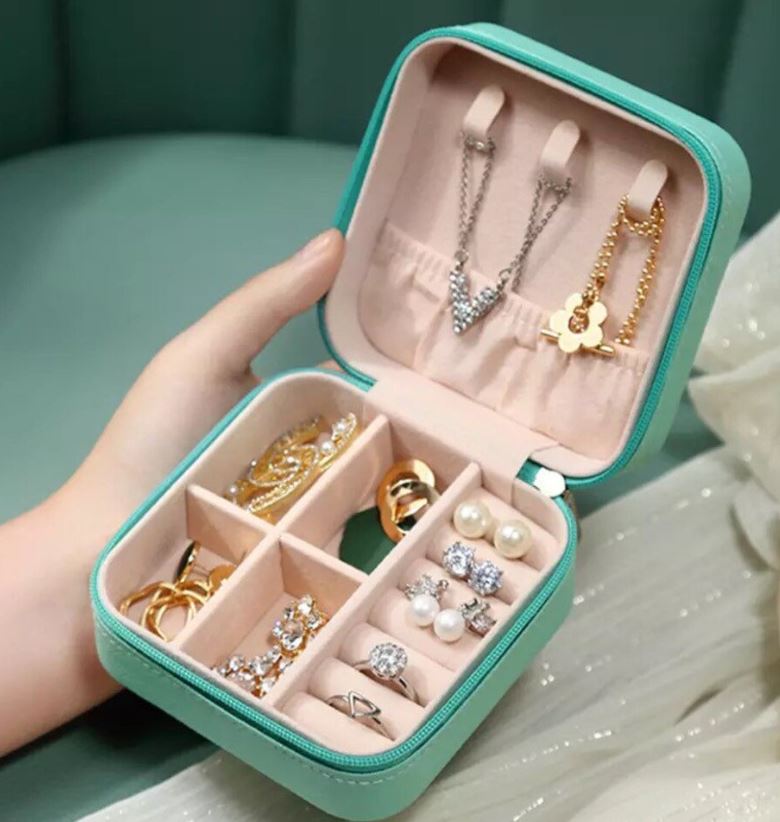 You've arrived at your dream destination. The weather is perfect and your accommodation is just as glorious as you imagined. Plus, you have reservations at the best restaurant in the neighbourhood for that night and cannot wait to get dressed up to go.
But wait. First, you need to scour your flight bag or daysack for where all your jewellery is hidden. Plus, you know you are going to spend a frustrating thirty minutes untangling your favourite necklace from a massive ball of chain before you can put it on.
So, how do you avoid this time suck on your dream trip and protect your jewellery?
The answer is to get yourself, or a loved one, a compact, secure and elegant travel jewellery case.
However, there are a lot of choices and it isn't the case that one travel jewellery case suits everyone's needs.
So, to help you in your search for the best travel jewellery case we've put together this handy buying guide.
The basics of travel jewellery case
To help start you off in your search for the perfect travel jewellery organiser here are the basics of what they provide and what you might need.
What is a travel jewellery case
Travel jewellery cases will all have the same basic components of soft and separated sections inside to hold and protect your jewellery, and a strong and robust outside made of leather or similar for durable protection. Many fold or roll but you can also get some hard cases suitable for travel for added protection.
Types of Travel Jewellery Organizer
Here are the main types of Jewellery Organizer and what you would use each one for. Further on in this article we provide examples of the best selling jewellery cases for each type.
Small Jewellery Box – A small jewellery box is perfect as a store to earrings and rings as you travel but won't have much room for necklaces or bracelets.
Jewellery box – A jewellery box will have room for rings, earrings, a necklace or two and a bracelet and will come with at least three useful compartments. They tend to be hard cases and will take up a fair amount of room in your hand luggage.
Jewellery roll – A jewellery roll is a long, flat, bag where you can store many items of jewellery and then roll it up for travel. They often have lots of compartments and keep your jewellery safe while not taking up lots of space.
Before you buy have a quick think about what jewellery you want to take on your trips and match the right style to those items.
You may even want to consider buying two travel jewellery cases. A small roll for weekend getaways and a larger jewellery box for longer trips going beyond a week.
The best selling travel jewellery cases
---
Glance through this table of the best selling travel jewellery cases from Amazon. We've focussed our search here on the roll types as we find them to be the best for travel.
Example Travel Jewellery Rolls
This is our favourite type of jewellery case for travel as it allows you to organise your jewellery easily but also rolls up neatly so it doesn't take up too much space in your luggage or hand luggage.
They work by having many small and flat compartments to place your jewellery in and then roll up neatly for storage. They also often come with a hanging clip so you can hang them on the back of the bathroom door or in a wardrobe for easy access. Have a look at these affordable examples from Bagsmart.
Durable material: skin-friendly and smooth polyester fabric, water-repellent surface treatment, high-quality zipper.
Compact size: 23*15*2cm. It is really convenient for trips and any parties. Trendy jewelry case keep everything neat and tidy without taking up too much space in your handbag, luggage, suitcase and backpack when travelling.
Large Capacity: This jewelry roll offers you a better way to store your jewelry when you are traveling, such as earrings, rings, necklace, bracelets, etc. Various storage space prevent your jewelry from getting tangled, keeping your jewelry well organized. Suitable for business trips, performances, traveling and other outdoor activities.
The Jewellery Organizer is an ideal gift for mother, wife, girlfriend, daughter, friend on Thanksgiving, Christmas, Birthday, Anniversary.
LOTS OF COMPARTMENTS FOR PRECIOUS JEWELLRY-- 2 rows with snap to store your rings, A detachable ear stud holder for 9 pairs earrings or eardrop, 5 zipper pockets(3 transparent) for your precious items, like bracelets, necklaces, watch, pendant, brooches and more.
SMART DESIGN-- 5 straps with snaps and bottom pocket to keep necklaces or chain from tangling. The magic strap is designed to keep necklaces in one place.
EASY TO CARRY-- Trendy and versatile jewellery case keep everything neat and tidy without taking up too much space in your handbag, luggage, suitcase and backpack when travelling.
EXCELLENT PROTECTON-- Internal and external are made of velvet material. Soft padded design to protects jewelry or accessories from scratches. Unfolded size: L49.53 x W22.86cm. Dimensions after folding: L22.86 x W17 x H4cm.
A NICE PRESENT-- The best gift for your girlfriend, daughter, wife, friends on Christmas, birthday, anniversary, Valentine's Day, Mother's Day.
Noble and Graceful Outlook: Balance the elegance and practicability of this small jewelry organizer
Smart Size for Taking-out: As a portable small jewelry box, this one is designed to hold your daily jewelries
Top Grade Material: Deluxe synthetic leather exterior(not genuine leather but premium synthetic PU leather) and Velvet lining
Elegant Chic and Reasonable Interior Design: 3 hooks and elasticity bags to hold necklaces, 1 rings holder and 1 earrings holder, special design of a large bags for holding large jewelries
Dimension of 5.5" height and 2.55" diameter when rolling up. Weight of 0.25LB. Gift Packing and could be sent out as birthday, wedding, party and Christmas gifts
Example Travel Jewellery Boxes
A Travel Jewellery Box will basically be a cube shaped box that opens up with lots of compartments to store your jewellery in.
The benefit of this type of jewellery case is that you can carry more than a roll, it is quite robust so will protect delicate items well, and generally looks prettier than a jewellery roll.
The downsides of this type of case are that it will take up more room in your luggage and may not store easily in your accommodation.
You might want to consider a jewellery box if you are going on a cruise and may want to take a large collection of jewellery options with you.
Here are three great examples of a travel jewellery cases you will want to consider
BUSINESS ANNIVERSARY. GET 5% OFF WHEN YOU PURCHASE TWO OR MORE. ENTER CODE 5VBAKE3V AT CHECKOUT.
Simple and compact design with elegant outlook and could be used to storage collective. Material: Deluxe synthetic leather exterior+Velvet lining+High Quality flannel interior
Thoughtful design with mirror inside. 3 parts, raw of ring rolls and a elastic wall pocket; great for holding small jewelry (earrings, rings, necklace, etc)when travel.
Zippered closure design. Lid and base are solid, well-constructed and sturdy, keep all your beloved jewelry well organized.
Measurement: 4.13''(L) 4.13''(W) 2.17'' (H)/ 105mm (H) X 105mm x 55mm.Weight: 3,86 ounce.
Travel Jewelry Boxes: 3.94''x 3.94''x1.97''inch,Weight:180g,-Portable and Lightweight, these jewellery organiser are easy to put inside your handbag but not taking too much space. Our travel jewellery case is convenient for journey,travel,weekend trip,business trip or daily use.
Multifunctional Jewellery Box: Open the jewellery organiser box,There are 4 functional zones.Bottom part has 6 ring rolls for rings, earrings, studs.On the left side, dividers offer 3 small compartments and also removable for holding the larger jewelry accessories or lipstick ;The middle section can holder 5 pairs earrings; Top lid section has 3 hooks and lower elastic pocket to keep necklace, bracelets perfectly in place.(Please note that jewellery and accessories are not included!)
Small Display Storage Case with Mirror: The mini travel jewellery box has a mirror that supports the jewellery box when opening the box and also keeps your jewelries from moving when closing the box.you can make up and wear accessories anytime and anywhere. It is available in 4 pretty colours and can match different styles of clothing and jewelry you need.
Premium Materials: This Jewelry Storage Box Made of waterproof PU leather exterior and advanced velvet interior,durable, odorless, waterproof and moisture proof.Soft lining inside protects your jewelry from scratches and loss. Advanced switch box design, zipper installed, higher safety, and can keep accessories clean.
Great Gift Idea: Simple and compact design jewellery boxes with elegant outer look perfect for all mothers, women and girls. Your beloved would be happier when receiving such a nice gift on Valentine's Day, Mother's Day, Christmas, New Year, birthday, wedding.
【Premium Quality】: This portable jewellery box is made of premium PU leather exterior and advanced velvet interior, environmental friendly and anti-abrasive material. Premium soft material inside can well protect your rings, earrings or necklace from scratches.
【Practical Design】: Comfortable and practical design can meet different needs for different people, including detachable crossing board, ring rolls, necklace hooks, elastic wall pocket. Bases are solid, well-constructed and sturdy. This practical design keep your jewelry well organized.
【Compact and Lightweight】: Size-3.93 x 3.93 x 1.96 inch (L x W x H); portable, compact and lightweight design, this small jewellery case is easy to carry in your handbags or in your luggage for travel.
【Ideal Gift】 Our travel jewellery organizer has elegant outlook ,it is ideal gift for carrying small jewellery, especially suitable for Birthday, Christmas, Valentine's Day, Wedding Day, Mother's Day, Anniversary Day and so on.
【100% Satisfaction Lifetime Service】:All our jewellery boxes comes with 12 months money back guarantee and lifetime service if you are not completely satisfied with your purchase, we will refund you fully or send you a replacement free of charge.
Example Travel Jewellery Case
This type is exactly as it a sounds, a case, or if you want another term a jewellery pouch. A simple and elegant zip up carry case to store your jewellery.
Here is a good example of a travel jewellery case.
What should you pay for a travel jewellery case
There is a huge range of travel jewellery cases available with a significant price range starting from under ten pounds and going all the way up into the hundreds.
However, we recommend you stick to the cheaper end of the price range as it will deliver just what you need from a travel jewellery case or organiser without breaking the bank.
Where are you going to store your travel jewellery case
One thing to consider before buying a travel jewellery case is where are you going to store it when travelling. Before you give this too much thought the answer is in your hand luggage. Unless you really aren't that fussed on your jewellery then we would recommend you always keep it close when travelling. After all it is more likely that your suitcase will go missing than you will lose your hand luggage.
More Travel Gear Guides
Looking for more travel gear? If so then be sure to check out the Travelbetter Travel Gear section for more useful buying guides and resources.
Affiliate Disclaimer
This post about the best travel jewellery case contains affiliate links to Amazon UK. If you click on a link and make a purchase we receive a small commission and no extra cost to yourself. This commission goes towards running Travelbetter and keeping us an independent travel advice website.