The Best USB Head Torches
---
This guide to the best USB Head Torches will make sure you get a top torch for your money.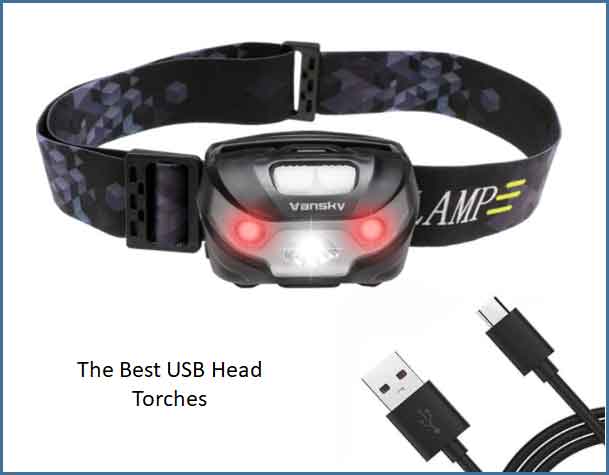 Travelbetter Top Choice for a USB Head Torch
---
Here is the Travelbetter top choice for a USB Head Torch.
We have selected this Head Torch, from Anecity, as our top choice as not only does it score well on all the consideration points e.g. weight, price, brightness etc.
But, it comes with this great wrap around wide angle lens design for great visibility when moving in the dark and a spot light option on the side for a focused light beam.
Best Budget USB Head Torch
The following is our top budget USB Head Torch recommendation.
It has a great set of options, including being waterproof, yet comes in under £15.
The Evolution of the USB Head Torch
---
When Thomas Edison first developed the electric cap lamps for miners back in 1914 he probably didn't think that one day world travellers would be putting the latest generation of the electric lamps near the top of their travel gear list. But they do and for good reason.
Head torches are a brilliantly useful piece of kit that provides a great light source while keeping your hands totally free. And they are not for the exclusive use of travellers. For instance I and thousands of other people also use a head torch for running, fishing, hunting, car mechanics and camping.
But, the one small draw back to traditional head torches is that they require batteries (most often 3 AAA batteries) and even when provided by the Duracell Bunny the batteries run out and always when you need it most!
So to overcome this limitation of head torches some clever people decided to make use of rechargeable batteries and micro-USB technology so conventional batteries were no longer a constraint and the USB rechargeable head torch was born. All you have to do is remember to plug it in.
Plus, with a sealed in rechargeable battery it also became a lot easier to produce a water resistant head torch.
Key things to consider when buying a Rechargeable USB Head Torch
---
Here are the key items to look at when purchasing a head torch:
Light Modes How many brightness/power settings does it have. This allows you to adjust the light according to your needs and also to conserve power when low light is enough.
Brightness Measured in Lumens and a key element to any light. For reference approximately 450 Lumens is the same brightness as a standard 40w bulb and 800 Lumens is the same brightness as a 60w bulb.
Battery Life Probably the secondmost important element to consider after brightness, and while the brighter the light the shorter the battery life most of the time you should be looking for a minimal of 6 hours.
Water Resistance You really want a head torch that can handle a bit, or even a lot, of rain and yo move about on your travels or while out running.
Tilt Can you angle the lamp to make it more user friendly.
Weight After all you don't want a brick on your head. For reference 500g (grams) is about half a bag of sugar.
How much should you pay for the Best USB Head Torches
---
With so many robust, feature rich and high quality head torches and headlamps on the market this creates lots of competition which is great news for you.
It is great news as this means you can get a great head torch at a great price.
However, your head torch will get bashed around a bit on your travels and you need some reliability so we would recommend that you pay between £20 and £40 for a USB head torch.
This price range will bring you plenty of the key features but with reliability, robustness and hopefully a guarantee.
More great USB Head Torches
Here are some more great USB Head Torches for you to consider.
More Travel Gear
---
Check out these article for more great travel gear tips.
Affiliate Disclaimer
This guide to the best USB Head Torches contains affiliate links to Amazon UK. If you click on a link and make a purchase we may receive a small commission. This commission goes towards the running of Travelbetter and keeping us independent. Thank you for your continued support.