30 Great Attractions & Places you must visit in Normandy – What to do in Normandy
---
Wondering what to do in Normandy?
In this easy to use travel guide you will find 30 great attractions and places to visit in Normandy.
Just read through and add the ones you like to your Normandy to do list to be sure of a great time in Normandy.
Introduction to Normandy
---
With its stunning coast line, great attractions, and rich history Normandy is a great holiday choice for UK travellers.
It has a wide range of accommodation options to suit all tastes and budgets, and can be easily reached by ferry or train from the UK.
Normandy also has as abundance of great value restaurants serving up wonderfully tasting food.
So, now that we have convinced you to take a holiday to Normandy you may be wondering what there is to do.
Well, read on to discover 30 of the best things to do in Normandy.
1. Arromanches Beach (Arromanches-les-bains) and the D-Day Museum
---
One obvious place to start with what to do in Normandy are the D-Day beaches.
Now, while the big five D-Day beaches will make your list and ours you should definitely check out some of the "smaller" beaches as well as they have lots to offer.
And, Arromanche is top of our list of small D-Day beaches to visit with everything it has on offer.
Arromanche Beach Fun
Arromanches-les-Bains beach is a great big, flat, sandy beach that is great for sunbathing, beach games, paddling and exploring.
And, as you can see above we spent many fun hours at Arromanche beach doing just those things.
Plus, Arromanche beach is very quiet and while you don't get it to yourself you do get plenty of space.
Arromanche D-Day History
Now back to the D-Day history of Normandy and Arromanches beach is a great place to get a feel for the massive scale, effort and undertaking of the D-Day landings.
This is highlighted in the Arromanche D-Day museum and the leftover D-Day artefacts found on the beach.
The most interesting of these D-Day artefacts has to be the large pieces of the floating bridge, or flotilla, at Arromanches that was used to deliver much needed supplies and equipment to the European battlefronts.
On the beach you can walk right up and explore what remains of the flotilla and then when you visit the museum in Arromanches you can see it in action in historic footage.
It is also fascinating to see it appear as the tide goes out and then later on, after exploring it close up, watch the sea submerge it once more as the tide comes in.
Galettes at Arromanche
The final thing we love about Arromanches is that it is home to our favourite gallette restaurant.
It is a lovely family owned place on the main strip that serves tasty, freshly made, gallettes and crepes all day long.
It is also where I discovered the delicious combination of crepe with crème-de-marron.
2. Model Railway at Clecy – Chemin de fer Miniature
---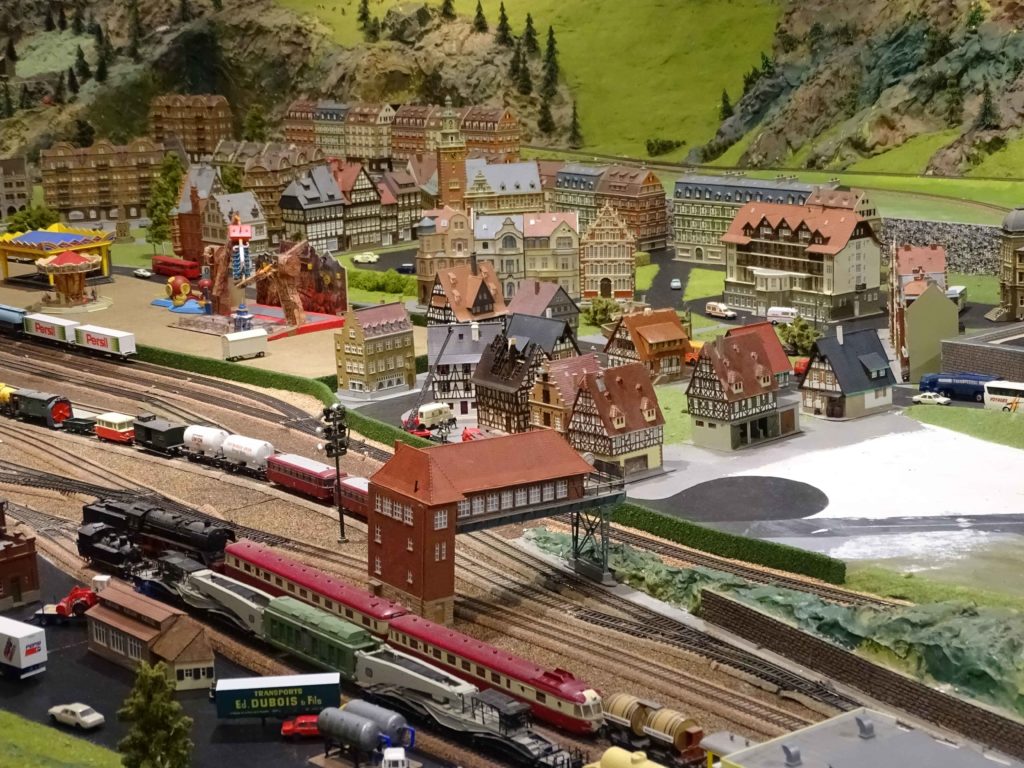 Next up on our list of what to do in Normandy is the model railway in Clecy, known locally as Chemin de Fer Miniature which translates to Railway Miniature.
The Clecy model railway is a wonderful display of dedication and craftsmanship of a father and son team who have spent years creating a railway based world and you can't help but be impressed as you watch it come to life.
The attention to detail on the model is everywhere with just some of our favourites being the outdoor cinema, burning building and the working fairground. It will keep you and yours kids captivated for a good hour or so as you take it all in and watch it come to life.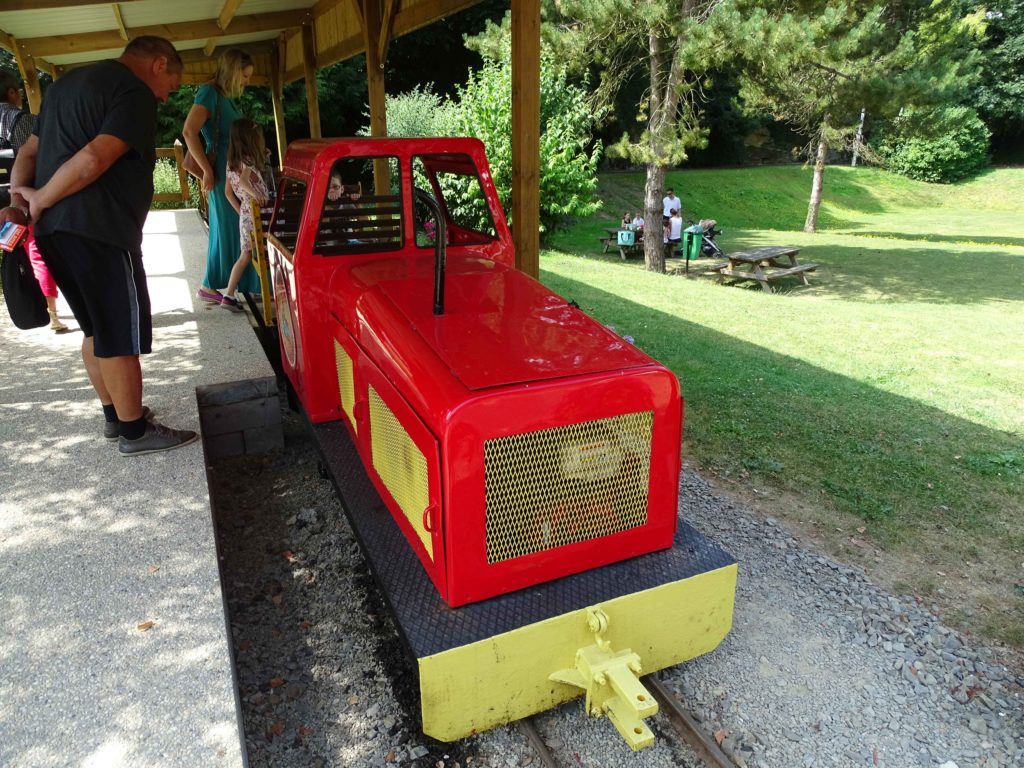 As well as the model railway there is a ride on railway that goes around the grounds which is a lot of fun for the kids.
Plus, there is also an inflatable bouncy train for the kids to play on while you enjoy a coffee and snack from the café.
Plus, Chemin de Fer Miniature also features a cidre cave to walkthrough and learn all about the cidre making process. Also, housed in the cave is a small cinema showing the changes to Chemin de Fer Miniature over the years from humble beginnings to what it is today.
3. Boating and Climbing in Clecy
---
For number three on our list of what to do in Normandy we are staying in Suisse Normandy and heading two minutes down the road from the model railway to the action packed riverside of Clecy.
Here you can enjoying lots of fun activities including boating and kayaking.
We recommend an electric boat ride as they are very easy to use and come with two speeds.
Slow and Slower.
So, they are fine to let the kids have a go.
If you don't have any kids with you or they are not so little anymore then go for a kayak safari down the river enjoying great views while paddling on mainly gentle waters.
Clecy is in an area known as Suisse-Normand or Swiss Normandy to us Brits.
It is named due to its many high rising hills and low river valleys and Clecy embodies this.
Plus, with its sheer rock faces it provides the ideal opportunity for some climbing adventures.
But, if climbing a cliff face isn't enough of a thrill for you then you can always try you hand at abseiling off the old railway viaduct.
4. Clecy Gliss Luge Sled Ride
---
One final entry from Clecy to our list of What to do in Normandy is the fabulous luge sled ride at Clecy.
The luge ride is a fun and exhilarating ride down the hillside for all the family. Also, as well as a high speed adrenaline rush you also get to enjoy great views into the valley.
Check out our video of us enjoying the Luge Ride at Clecy.
5. Bayeux Tapestry
---
Number five on our list of what to do in Normandy is the Bayeux Tapestry.
This famous woven art work depicts in great detail the events leading up to and including the battle of Hasting in 1066 where William Duke of Normandy defeated and killed King Harold to become King of Britain and gained his nickname William the Conqueror.
Bayeux is also a lovely picturesque Normandy town and a lovely place to grab lunch and stroll through winding streets.
Check out the Bayeux Tapestry Website for more details.
The picture above was generously provided by the Bayeux Museum.
6. Chateau Vendeuvre and the Garden of Surprise (Jardin ou Surprise)
---
There are many Chateaus in Normandy worth visiting but one that stands out to us is Chateau Vendeuvre.
While the stunning Chateau Vendeuvre itself is great to look at the real fun can be found in the large gardens and waterways behind the Chateau.
These gardens are called the Garden of Surprise and they certainly live up to their name.
The surprises in the gardens are a wonderful collection of hidden water features designed to catch you out and give you a small soaking.
The kids loved it and so did we and think it is a must for your Normandy to do list.
As you can imagine, it is especially fun when the weather is hot.
While Chateau Vendeuvre is an elegant and stylish place to visit. It also doesn't take itself too seriously as our video above shows.
7. Festyland
---
If you are looking for a theme park in Normandy then number 7 on our list of what to in Normandy is for you with the fairy-tale themed Festyland.
It might not be Disneyland Paris or even Alton Towers, but it is a fun park with a couple of coasters and white knuckle rides as well as plenty of rides for the little ones.
Check opening times and the latest prices here.
8. Chateau Guilliame – William the Conquerors Castle
---
If there is one person in history you associate with Normandy then it would be William, Duke of Normandy and Conqueror of Britain.
And, in the Market town of Falaise you can visit his place of birth and where he grew up to be king.
The grounds are very impressive to walk around and include special fixed Viewmaster style devices that allow you to see the castle and grounds in the past
When inside the castle the fun doesn't stop.
Thanks to some clever software and an ipad You can get a view of what life was like in the time of William.
Learn more and find the latest opening times.
9. Go Swimming
---
France has some great indoor swimming pools that are always well maintained, full of fun slides and open to visitors.
So, wherever you are in Normandy make sure you spend some time chilling out as a family at the local pool.
This swimming pool in Falaise is one our favourites and is very well kept, has a splash area for babies, a big lap pool, slides, small wave pool, and an outside pool with a sun lounge area so you can relax here for a good few hours.
One tip to avoid the crowds at the swimming pools in the summer is to visit over lunchtime, between 12-2, as all the locals will be at lunch.
10. Haras Du Pin – National Horse Centre
---
Normandy is also famous for its horses and is home to the National Stud farm and equestrian centre called Haras Du Pin.
As well as having some magnificent buildings, great tours of the stables, and fantastic horses they also put on a family friendly show a couple of times a week showcasing the horses at the stables and what they are capable of.
In addition to the above you can now also get a pony ride at the Haras Du Pin and the Travelbetter Kids gave this a try during a recent visit.
Learn more about Haras Du Pin.
11. Graindorge Cheese Factory in Livarot (Graindorge E Fromagerie)
---
France is famous for its cheese and each region has their own range.
For Normandy, the range is Camembert, Livarot, Neurfchatel and Pont-l'vec and they are all delicious.
Plus, you can find out all about them at number 11 on our list, the Graindorge Cheese Factory in Livarot (Graindorge E Fromagerie)..
At the factory you can take a self-guided tour through the whole cheese process and of course enjoy a few samples.
The smell at the factory, as you can expect, is pretty strong and while you do get used to it during the tour you might get a few complaints from the little ones.
12. Automates Avenue
---
Next on our list of what to do in Normandy is the Automates Avenue in Falaise. This is a unique museum showing some very impressive automatons and how they have been used for advertising over the years.
The whole museum is set out along a mock street from 1920's Paris and you walk along looking in each window and admiring the detailed work and performance on the automaton.
Be warned, a few of them can look a bit scary at first to the little ones but this fear quickly passes and before you know it the kids are running from window to window to see what is next.
Learn more Automates Avenue here
13. Visit the town markets
---
Food in Normandy really is worth talking about so had to feature at least a couple of times on our list.
Now, to really understand the range and quality of produce available in Normandy then you must check out one or more of the local markets.
Not only will you and the kids see some lovely, tasty and impressively colourful food on offer.
But, you will also get to see a few things you don't normally come across at a market in the UK.
Things like baby ducks, chicks, rabbits, a small fairground, donkeys to ride on and interestingly a number of people serving couscous.
When we visit a town market in Normandy we challenge the Travelbetter kids to find the most colourful food, the most unusual food, and the slinkiest food (normally this is found in the cheese section).
Most towns have market days and two that we strongly recommend are Falaise (on a Saturday) and San-Pierre-Sur-Dive (on a Monday).
14. Mont-Saint-Michel
---
The tidal island of cobbled streets and a majestic abbey is a UNESCO World Heritage Site and a simply stunning structure to look at.
It is also the inspiration for Rapunzel's home in the Disney film Tangled, and this alone will have your kids running around the place with excitement.
15. Paleospace
---
The history of Normandy goes back further than William the Conqueror. In fact it goes way, way, way back.
At Paleospace you and the family can learn more about it's Jurassic history and see some impressive displays of Normandy's biggest Dinosaurs.
16. Horse Riding
---
Whether you are a beginner or a more experienced rider there are plenty of opportunities for you and the little ones to have a go at horse riding in Normandy.
For example, the above is Travelbetter Girl about to ride a miniature pony called Minnie and she loved every minute of her ride.
Plus, as we said earlier in this post the riding fun has continued at Haras-Du-Pin.
To help you find a riding experience in Normandy here is a handy map of riding schools in Normandy.
17. Honfleur
---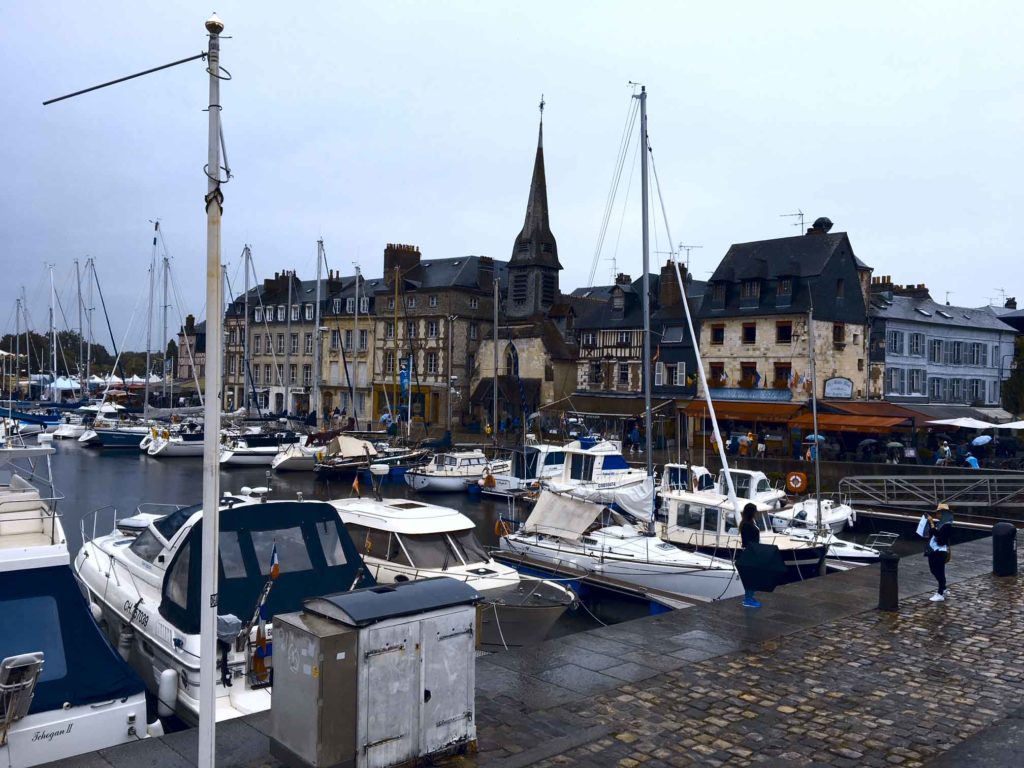 Honfleur is a beautiful harbour town near the larger port of Le Harve and it is a truly picture perfect town full or colour and restaurants.
While it is a must do place to visit for a day you can easily spend a weekend here walking around the cobbled streets, eating great view and taking in the view.
18. Cidre Route
---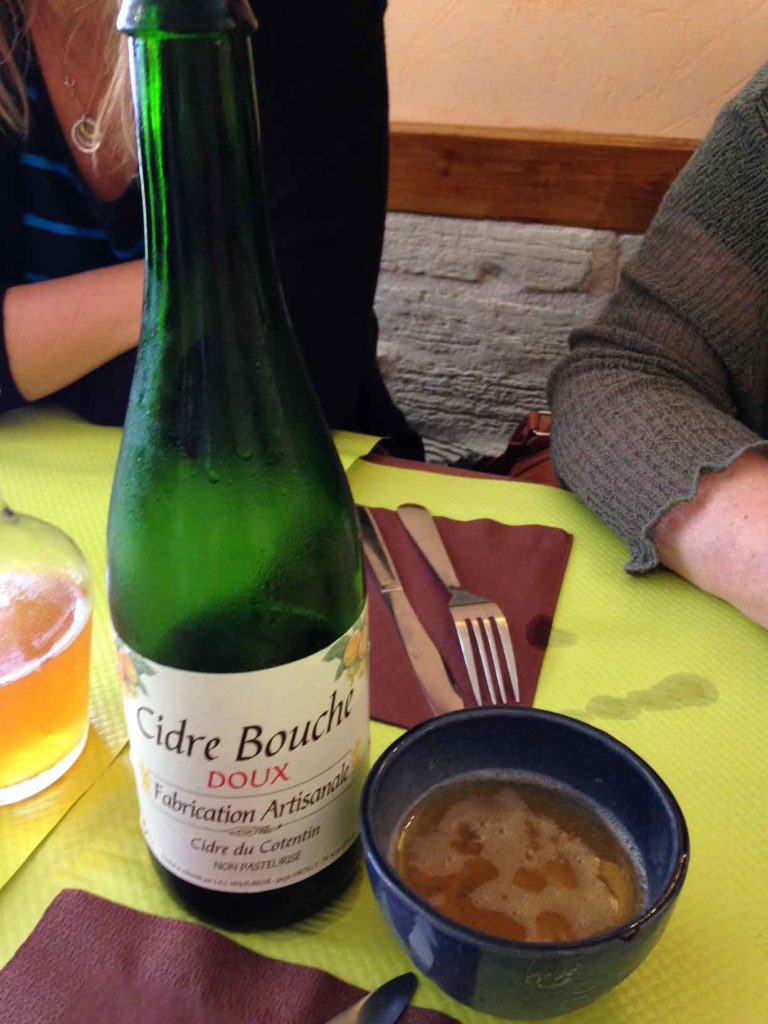 As we mentioned previously Normandy is a great destination for foodies, and one prominent product found all over Normandy is apples.
These apples are then turned into many lovely products and while we think you should try them all top of the list has to be Normandy Cider (Normandie Cidre).
Normandy cider is a lovely, refreshing, drink to enjoy with a meal or on it's own.
And, one of the best ways to find great local cider is to take the Cidre Route.
This cidre route is a 25 mile trail through fantastic Normandy countryside dotted with many small cidre producers.
Just simply stop at a producer to sample what is on offer and buy a bottle or two.
19. The D-Day Landing Beaches and Cemeteries
---
The D-Day landing beaches and surrounding cemeteries are a sobering but important part of any visit to Normandy and have to be include in the list of what to do in Normandy.
Not only do they show the impressive scale of the operations to start to free Europe from the Nazi's but also a humbling reminder of all those who gave their life in those operations so we can enjoy our freedoms today.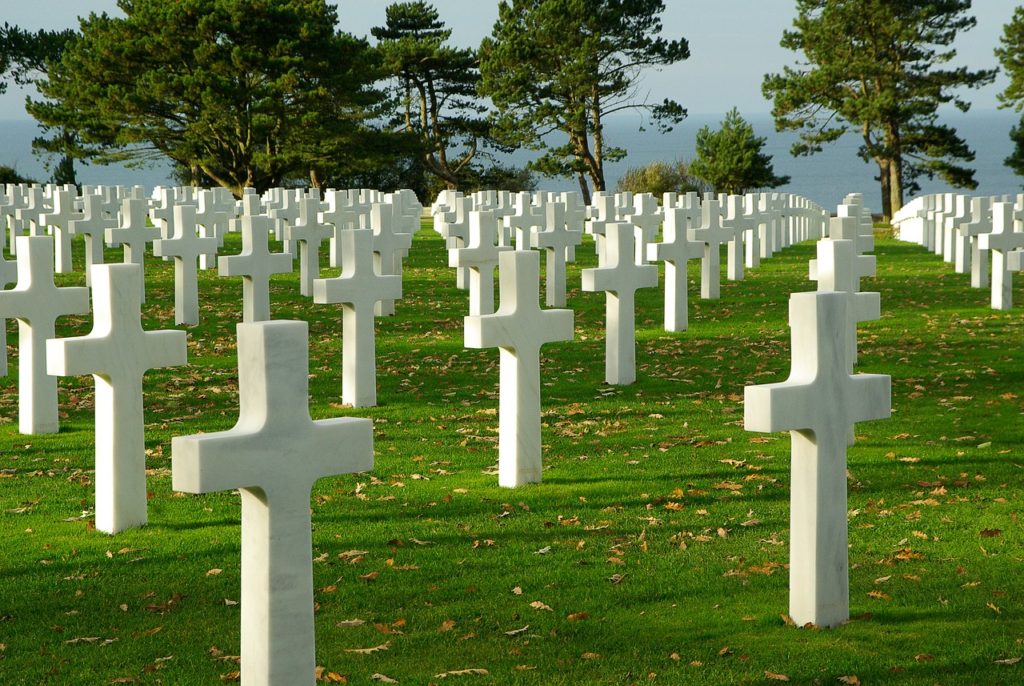 As you walk through the cemeteries you can't help but feel sadness as you read the ages on many of the graves and realise that the soldiers who died were so young, with many just in their late teens.
Learn more about the D-Day landings and Operation Overlord.
20. Rouen
---
Rouen is one of the largest cities in Normandy and has a long rich history including being the place where Joan of Arc was trialled.
Today, it is still a vibrant and exciting place with many new developments taking advantage of the river Seine to provide a wonderful collection of eateries and bars.
Additionally, it has always been a very economically prosperous city and this has funded the development of a number of magnificent buildings in the city and as a result make it a great location for an architectural and historic walking tour.
21. Caen Memorial Museum
---
For a detailed look at how the Second World War and events following the war played out in Normandy and impacted its people then the Caen Memorial Museum is the place to go.
As well as many fascinating exhibits it also has a large collection of archive cinema footage on display showing life, the news and the aftermath of World War 2.
Plan your visit to the Caen Memorial Museum.
22. Monet's Garden at Giverny
---
Have you ever wanted to jump into a painting? Well, you can at Monet's garden…sort of.
The magnificent and beautiful gardens at Giverny were the backdrop and inspiration for many of Monet's paintings and you can wonder around them for hours and enjoy their splendour just like Monet and his family did.
Learn more about Monet's Garden.
23. Caen Castle – Chateau de Caen
---
Built by William the Conqueror almost 1000 years ago around 1060AD, the impressive structure still stands today in the heart of Caen and is well worth a visit.
It is one of the largest fortifications in Europe and houses two great museums inside.
The museum of fine arts Caen and the museum of Normandy.
Not only is it an impressive castle in fantastic condition but it also provides great views of the city of Caen.
Learn more about Caen Castle.
24. Dieppe
---
Take in the wonderful views of the Alabaster coast while being immersed in maritime history during a visit to the historic city of Dieppe.
25. Musée du chocolat & Boutique Hautot
---
We stumbled upon the Musée du chocolat (museum of chocolate) almost by accident as we were driving along the main road and looking for a fun place to stop.
So, we took a risk and went inside to be met by the wonderful smells of chocolate making but also a fascinating museum providing a history of chocolate.
It was a lot of fun, quite and best of all you can taste some chocolate at the end so this one definitely makes the list of what to do in Normandy.
26. Deauville
---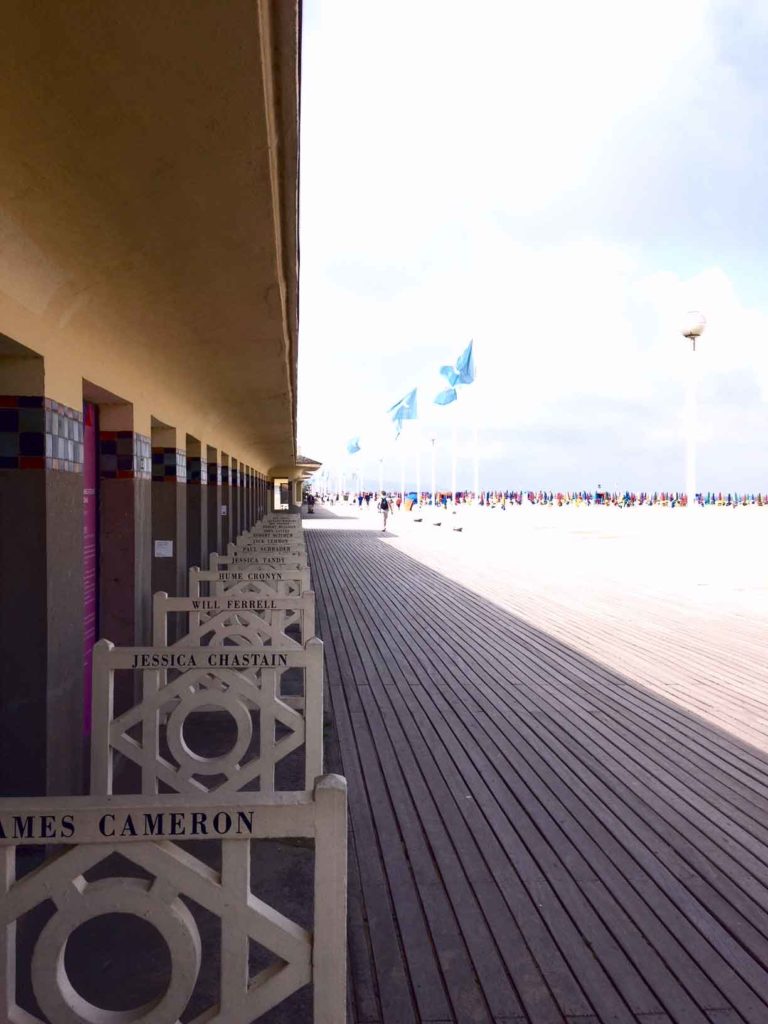 If you are looking for a cosmopolitan beach vibe that is loved by Hollywood stars then you have to check out Deauville and put it on your list of what to do in Normandy.
Affectionately known as the Cannes of Normandy Deauville is a fun and glamourous beach location while you can easily spend a day shopping in high end boutiques, lounging on the beach and eating great food.
27. Trouville
---
Trouville is located next to Deuville and is working hard to match its glamour and make the most of its vast expanse of sandy beach that is fun for the whole family.
28. Battle of Normandy Museum
---
The Battle of Normandy Museum in Bayeux provides a very detailed history of the battles in and around Normandy during World War 2.
29. Museum of Art and History in Bayeux
---
While Bayeux may be most famous for it's tapestry it also has lots more to offer visitors including the wonderful museum of art.
Situated next to the Bayeux Catherdral the museum provides a journey through the the history of European art with over 5000 collections spanning over 5000 years of history.
Learn more about the Museum of Art and History and plan your visit.
30. Camembert and the Camembert Museum
---
Our second cheese based entry on this list of What to do in Normandy but just like the cheese it is a real classic.
Camembert is a lovely small village with magnificent countryside views and worth a visit on its own.
However, in Camembert is the wonderfully hands on and interesting Camembert Museum providing a history of this wokld famous cheese.
Summary list of what to do in Normandy
---
Here is a quick list of what to do in Normandy.
Arromanche Beach and D-Day museum
Model railway at Clecy
Boating and Climbing at Clecy
Luge Sled Ride
Bayeux Tapestry
Chateau Vendeuvre and the Garden of Surprise
Festy Land
Chateau Guilliame
Swimming
Haras Du Pin
Graindorge Cheese Factory
Automates Avenue
Small Town Markets
Mont-Saint-Michel
Paleospace
Horse Riding
Honfleur
Cidre Route
The D-Day Landing Beaches and Cemeteries
Rouen
Caen Memorial Museum
Monet's Garden at Giverny
Chateau de Cain
Dieppe
Musee du chocolat & Boutique Hautot
Deauville
Trouville
Battle of Normandy Museum
Museum of Art in Bayeux
Camembert and the Camembert Museum
What to do in Normandy PIN
---
More from Travelbetter
---
You may be interested in the following related articles and guides from Travelbetter.
Affiliate Disclaimer
This post on what to do in Normandy contains affiliate links to Amazon UK and other retailers and travel providers. If you click on a link and make a purchase we may receive a small commission and this goes towards the running of Travellbetter and helps keep us an independent travel website.