Travelbetter Disneyland Paris Review
Is Disneyland Paris any good? Find out in our comprehensive Disneyland Paris Review.
In this article we will share our experiences of Disneyland Paris and provide critical visiting tips to help you have the best experience you can at Disneyland Paris.
The visiting tips will be placed within the story of our own Disneyland Paris adventure where they are most applicable.
Our Travel Plans
We visited Disneyland Paris as part of a two centre holiday in France over the school Easter holidays.
The first part of the break was a relaxing week in Normandy then followed by four nights of Disney fun.
Or at least that was the plan.
We found an excellent package deal for a Disneyland Paris hotel including park tickets on the Disneyland Paris Website and filled with Disney excitement with booked it up quickly.
However, after booking in haste we then started to read some of the online reviews and quite frankly they weren't very good.
We became nervous about the hotel quality and whether the park would live up to our expectations.
Read on to find out if it did.
Disneyland Paris Review Tip Number 1 – Book Online with Disney
While we were a bit nervous about our hotel after reading the reviews we did spend quite a lot of time pricing up hotel stays and tickets via various providers and Disney's own website was the best choice for value, options and ease of booking.
Therefore, tip number 1 for a Disneyland Paris trip is to book your tickets through the DLP website.
Disneyland Paris Review Tip Number 2 – Join their mailing list
To make sure you don't miss out on special offers and know about the latest entertainment plans at Disneyland Paris be sure to sign up to their mailing list.
You do this by registering for free and setting up an account on their website.
Arriving at the Disneyland Paris Hotel New York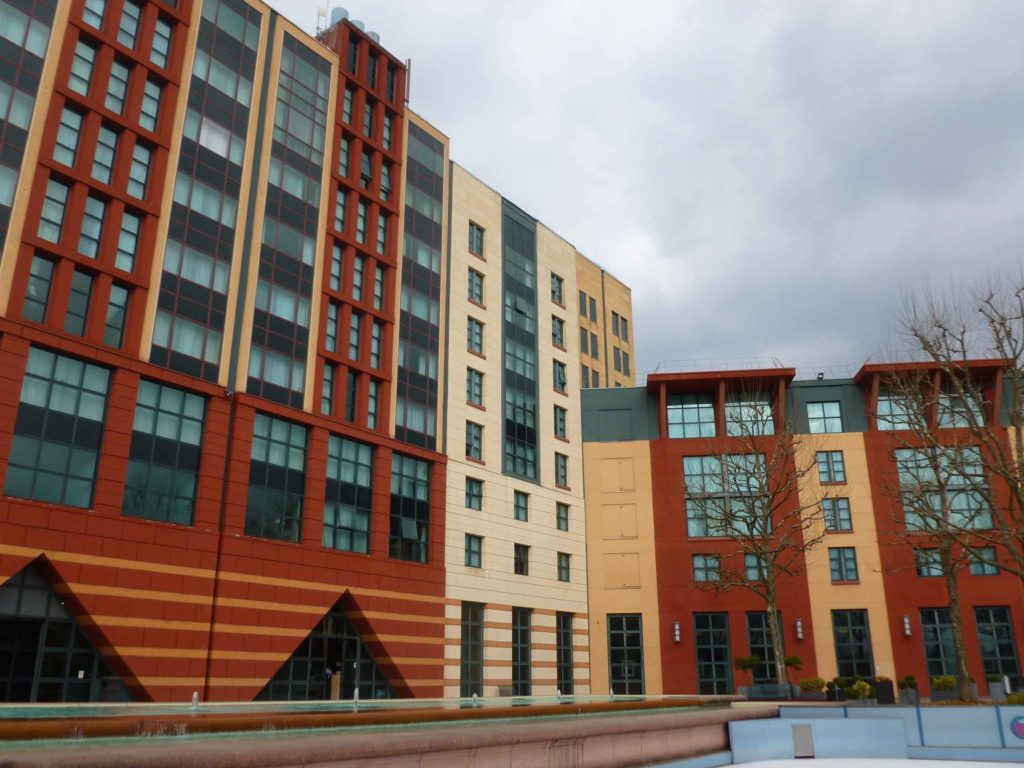 We had a long drive from our Toddler Holiday Gite in Normandy to Disneyland Paris, including having to navigating the ring roads of Paris, so it was fair to say we were a bit tired and fed up when we arrived at the hotel.
Often, when travelling you can find your first impressions impacted by the tiredness of travel and this was definitely a risk for this hotel.
The hotel was well sign posted from the main road, so easy to find, and it also had plenty of parking right by the hotel.
All plus points, and especially after a long drive.
However, as we approached the hotel laiden with children and bags the porters standing outside all ignored us and we struggled through the revolving door entrance.
This was very annoying but also a safety failure as they were meant to be scanning luggage on a big x-ray machine before it entered the hotel.
Interestingly, on subsequent days we were always scanned with a security wand on entering the hotel.
Once inside the hotel we joined a very large check-in queue.
But, while the queue was large it seemed to move quickly and the check-in procedure was a nice, simple and carried out with a smile. Much more of what you expect (and pay for) with Disney.
The hotel interior was very spacious, clean and decked out in a cartoonish art deco New York theme. A bit like something from the movie Who Framed Roger Rabbit.
We all found this interesting and fun and was the first signs that the reviews we had read were wrong.
We made our way to our room and were pleased to find it was a large, clean, room with two double beds and plenty of room to spread out.
This was great and just what we were after.
After all, we didn't plan on spending a lot of time in the hotel other than resting from adventures in the park.
On that note, once we had unpacked and freshened up we headed into the Disneyland Paris parks and were instantly grateful for booking a hotel so close to the parks.
Disneyland Paris Review Tip Number 3 – Stay onsite
While there is plenty of great accommodation options available offsite, we recommend you stay onsite. Especially if you have young children.
This way you are not spending a good chunk of your time catching buses or looking for parking and instead can just stroll to the parks and start enjoying the fun.
Plus, with an onsite stay you get extra magic hours – more on these later.
Disneyland Paris Review Tip Number 4 – Opt for an early breakfast slot
One of the interesting quirks about the Disneyland Paris hotels when we stayed was that they were quite strict about what time you could eat breakfast, and asked you to select a slot.
To avoid missing out on your Magic Hours select the earliest slot you can and save your lie in for another time.
Even if they aren't allocating breakfast slots anymore it is still worth getting up as early as you can to get ahead of the crowds at the hotel as you don't want to be missing you magic hours while queuing for a fried egg at breakfast.
Our first afternoon and evening at Disneyland Paris
As it was our first afternoon and we were tired from driving we just took it easy.
We strolled about the Disneyland park to get our bearings, watched the DLP parade and then grabbed some food at the Rainforest Café in the Disney Village.
The Disney Village is large collection of shops and restaurants just outside of the two parks and is a great place to chill, get some food and do some serious Disney shopping.
Magic Hours at Disneyland Paris and How to Get the Most Out of Them
We had two magic hours each day as part of our package and were keen to put them to good use.
Magic Hours are a time when only Disney hotel guests get to use the Disneyland Park.
This is normally two hours before it opens to the public and allows you to get on some rides and attractions before the crowds build up.
Magic Hours are only available for the Disneyland Park and not available for the Walt Disney Studios Park.
Sadly, on our first full day in the park we wasted all of our hours and more queuing to meet Mickey Mouse and Donald Duck.
The really frustrating part being that the queue looked very small (30 people max) but took two and half hours to get through!
Not a good first impression and a waste of our extra time for no good reason other than poor management of a queue.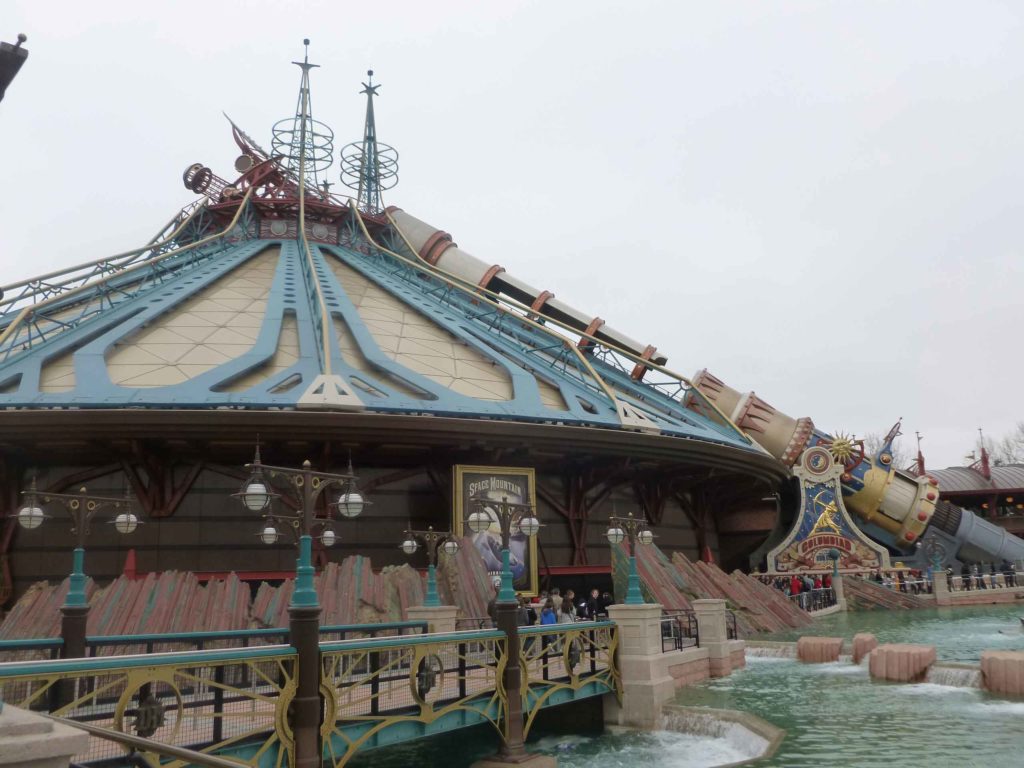 On the following days we ignored the character lines and headed straight for the rides.
Within an hour we had covered the Flying elephants, teacups, Buzz Lightyear Laser Blast, Carrousel, Hyperspace mountain and a coffee.
Suffice it to say for your trip to Disneyland Paris focus your extra hours on the rides.
Disneyland Paris Review Tip Number 5 – Don't waste your Magic Hours on Character spots
As you can see the character spots in the park are not run well.
Therefore, we strongly recommend you use your extra magic hours for rides and attractions only.
We cover the best way to meet the Disney characters at Disneyland Paris in the next section.
Meeting the Characters at Disneyland Paris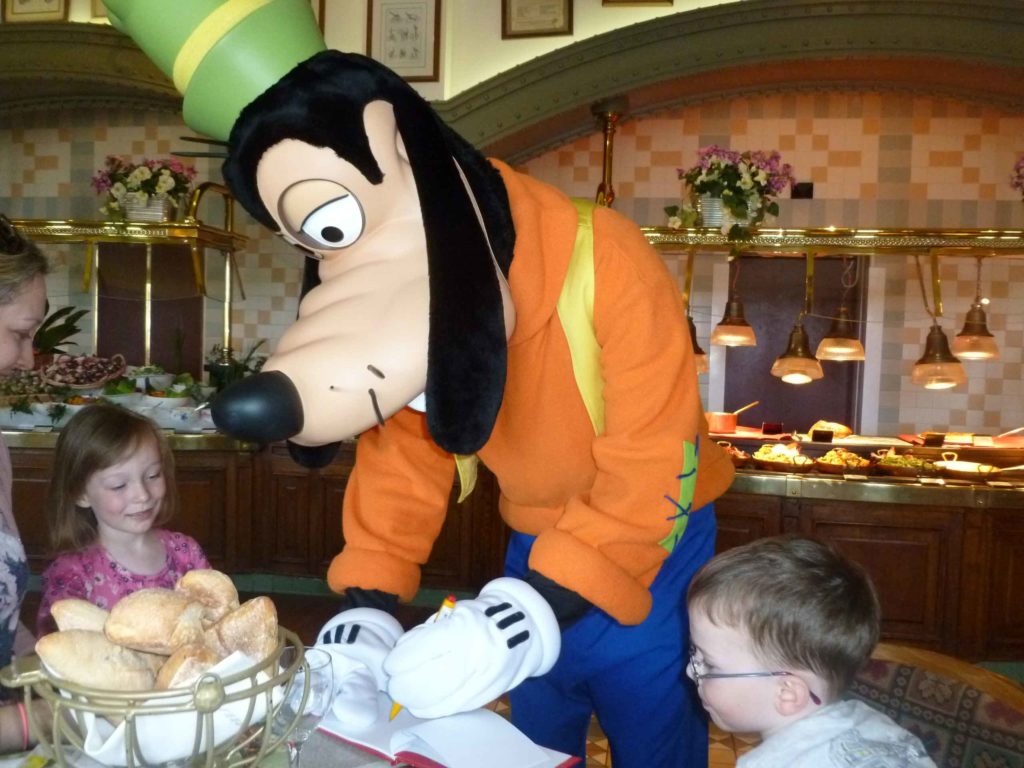 Meeting the characters at Disney is what little kids love the most about Disney trips and the Travelbetter kids are no exception.
But, from our experience at Disneyland Paris it is fair to say they don't run the character meets in the parks very well.
Plus, when compared to the parks in America people seemed to have problems politely queuing and not trying to push in. Often forcing the Disney cast member to hear some poor sob story about their kids getting upset in the long queue and therefore they should be allowed to cut in.
We even had to endure one very annoying women fake crying to try to get to the front.
They weren't successful but they slowed the queue even more and quite frankly pissed us off!
We quickly realised meeting the characters the usual way wasn't going to work and we needed a different approach.
So, we changed tactics and decided to book a few character meals where you got to meet some of your favourite Disney characters while enjoying breakfast, lunch or dinner.
This was a smart move and one we recommend for your visit.
As everyone was busy eating and promised a visit by the characters there was little messing around and you got to meet at least three Disney stars in the time it takes to eat your meal.
We did two character meet and greet meals during our stay at Disneyland Paris.
The first was the Character buffet lunch at the Inventions room at the Disney hotel and the second was Breakfast at café Mickey in the Disney Village
The food at the character buffet lunch was excellent and during our lunch we got to meet Mickey Mouse, Goofy, Daisy Duck and Eeyore with a good amount of time with each one for the kids to get an autograph, a photo, and a cuddle.
Breakfast at Cafe Mickey was a little disappointing in comparison with the character lunch.
The characters were great but the food wasn't.
It wasn't bad, but it just exactly the same as the breakfast we had skipped that day in our hotel and we had paid quite a lot for it so hoped for a bit more choice.
On balance Café Mickey may be a better choice for an evening meal.
However, the characters were great and the kids got to meet Mickey and Goofy once more, Pluto Dog and Rabbit from Winnie the Pooh.
The looks of joy on their faces as the characters appear and come over to say hello during the meal is truly priceless and long may the magic continue.
Disneyland Paris Review Tip Number 6 – Do the meet and greet meal options to see the characters
To avoid the queues, get a good of time with the characters and enjoy great food we recommend you use the meet and greet meals at Disneyland Paris to see the characters.
What are the rides like at Disneyland Paris
The truth is we were disappointed with the rides and attractions at Disneyland Paris during our visit.
But, this was for the simple reason that so many were closed.
Especially some of the best like the Rockin-Roller-coaster, Thunder Mountain and Star Tours.
We understand that they require maintenance and improvement at times but all at the same time, and during the school holidays!
This was not very good timing in our opinion and as a result this meant that some of the bigger thrill rides that were open had much larger queues.
We did manage to get on the Tower of Terror but didn't manage to get on Crush's Coaster as the queue never went under an hour.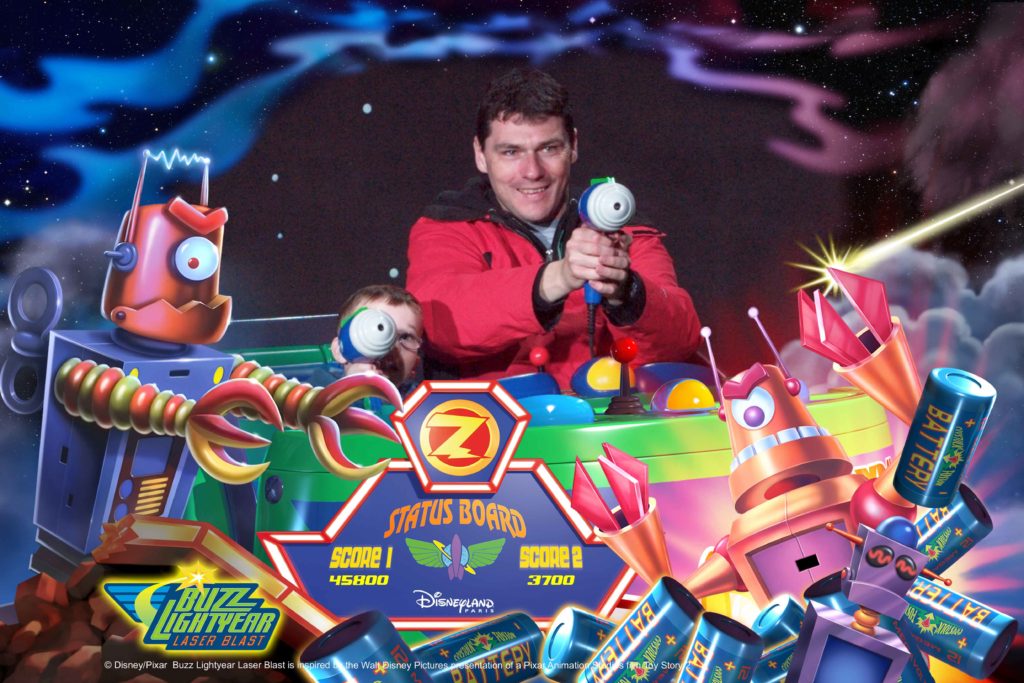 However, there were still plenty of rides on offer for the little ones and we would recommend the Slinky Dog roller-coaster (Walt Disney Studio Park), it's a small world (Disney Park) and The Pixar Cars ride (Walt Disney Studios Park) as top picks for five and under.
These rides were a lot of fun and the queues moved quickly enough that we could get a few goes in each day.
One of the best rides in Walt Disney Studios Park was the Ratatouille ride based on the film of the same name.
On this ride you are shrunk down to the size of a rat and go on a journey through Chez Gusteux restaurant from the film.
This was great fun for all the family and we managed to get on this a few times thanks to careful use of the fast-pass system.
As well as the above we also enjoyed the Stunt Spectacular Show featuring Lightning McQueen, exploring the secret cave under Sleeping Beauty's Castle, the parade (so much so we watched it twice!) and many fun games dotted about the parks.
Overall, despite there being a lot of rides closed the rides that were open were great and the queues moved quickly for most of them.
Disneyland Paris Review Tip Number 7 – Check what rides are running before you book
Rather than get to the park and find none of the rides you want are running check out The Disneyland Paris closure guide before you book.
On this page select that you are interested in attractions and then filter by closed attractions.
Be prepared for long days at Disneyland Paris
Even with a lot of the premier rides closed there was still a lot for us to do at Disneyland Paris.
Plus, with the early starts to make the most of our magic hours we were all being hit with the tired stick in the afternoon.
And, this was especially true for the Travelbetter kids.
While we did have our faithful McClaren pushchair with us the children had to take it in turns using it and taking naps and this didn't go down too well with either of them.
In hindsight, we should have either rented an extra buggy or bought another from home.
If we had, we would have avoided a few unpleasant tantrums over who's turn it was to go in the buggy.
Disneyland Paris Review Tip Number 8 – Build breaks into your days and make sure you have a push chair each
Make sure you build lots of breaks into your day to get some downtime and for the kids the sleep. Also, if you have more than one child consider getting an additional buggy to allow them both to nap at the same time.
If you stay at one of the onsite hotels, and we recommend you do, then you can always pop back for a break and a power nap.
We did this a couple of times to great effect and it helped us to keep going late into the evening with the kids and watch the wonderful fireworks show.
What was the food like at Disneyland Paris
There are numerous places to get fast food or a more substantial meal at both the Disney parks and Disney village, including the Rainforest Café and Planet Hollywood which are both favourites of ours.
Top of our list of places to eat in the Disney parks was Chez Remy.
This was a restaurant based on the restaurant at the end of the Disney Pixar film Ratatouille.
Much like the Ratatouille ride you are shrunk down to the size of a rat to sit amongst giant crockery and on chairs made of bottle tops.
Chez Remy was a lot of fun but the food wasn't fantastic for the price and the service was lacking which was disappointing.
However, the kids really enjoyed it as they love the film.
But, if your kids are not familiar with the film then we would advise you give this restaurant a miss.
The other big night out we had was at Buffalo Bill's Wild West Show with Mickey and Friends in the Disney Village and this was superb.
We all loved the show.
It had plenty of tasty food and drink that was served while we watched and joined in with a really entertaining and action packed show.
By the end of the evening we all had big smiles on our faces and were trying to talk like cowboys.
This was one of the highlights of our trip to Disneyland Paris and we would strongly recommend it to anyone going.
NOTE: Sadly, in fact very sadly, Disney have decided not to reopen the show following the Pandemic. Hopefully, this is a decision they will reverse in the near future.
Disneyland Paris Review Tip Number 9 – Plan your meals in advance of your trip
To ensure you don't miss out on your first choice of restaurant at Disneyland Paris be sure to take a look at this list of all the restaurants available and book before you go.
This way you won't miss out and if you get there and find something else you prefer then just cancel your booking.
Is Disneyland Paris Good Value for Money
We believe the deal we had was good value for money.
This is because we were able to get four nights for the price of two, including park entry and breakfast.
This came to roughly £900 but when including park entry and magic hours it was a pretty good deal.
If we had paid the standard price without any special offers it wouldn't have felt quite such a good deal but we do think you still get a lot for your money.
However, there are always a lot of deals available for Disneyland Paris so it is worth checking out their website regularly.
How does Disneyland Paris compare with Disney World in America
Disneyland Paris is a lot of fun but on a much smaller scale than Disney World in America.
Additionally, the service at Disneyland Paris isn't up to the same standard as Disney World.
However, for a European taste of Disney you can't go far wrong with Disneyland Paris.
Disneyland Paris Review – Conclusion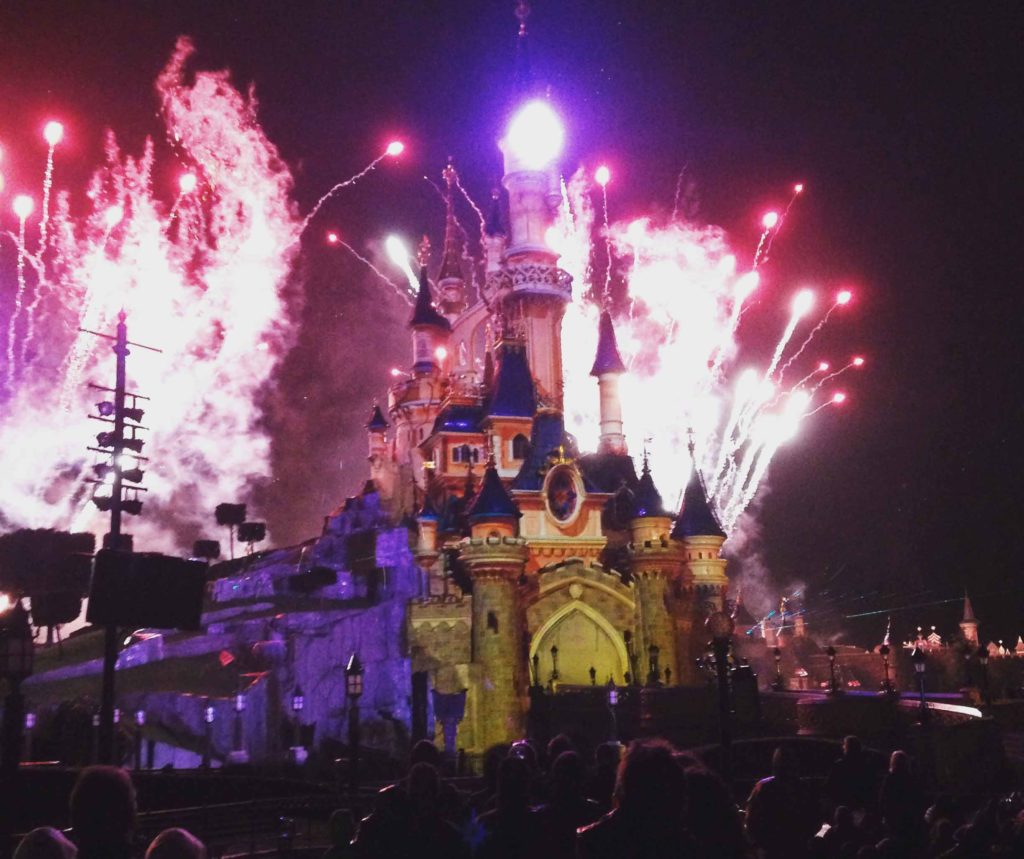 In conclusion we had a great time at Disneyland Paris.
While a few top rides were closed there was still plenty going on to keep us busy and make some long lasting memories.
More on Disneyland Paris from Travelbetter
Read on for more information and visiting tips for Disneyland Paris or check out these focussed posts.
More information and visiting tips for Disneyland Paris
Here is some further information and tips to help you have a great time at Disneyland Paris.
Disneyland Paris Facts and Figures
Disneyland Paris comprises of two theme parks
Disneyland Park
Walt Disney Studios Park
Disneyland Paris has 51 attractions (rides) and 28 Entertainment shows including a fabulous parade and evening fireworks show.
Disneyland Park opens at 8.30am most days for extra magic hours and 9.30am for everyone else. It closes at 11pm each night.
Walt Disney Studios Park opens at 9.30am everyday and closes at 8pm.
The History of Disneyland Paris
Disneyland Paris opened April 12th 1992.
Disney first agreed to build Disneyland Paris back in 1987 and then after 5 years of construction it opened its doors to visitor.
At time of opening t was only one park and was called as EuroDisney.
It was either the 4th or 6th Disney theme park depending on how you count the parks and think of Magic Kingdom, EPCOT and Disney MGM Studios (Disney Hollywood Studios) as separate parks.
Why did Disney change the name from Euro Disney to Disneyland Paris
When Disneyland Paris first opened it was called EuroDisney.
So, why did they change the name to Disneyland Paris?
Well, in all honesty the original park was a bit of a flop.
EuroDisney had a cheap sound to it which didn't match up to the not so cheap park tickets.
I doubt this was the only reason but it was an area of focus.
So fast forward only two years and the park is renamed to Disneyland Resort Paris to associate it with the elegant and stylish nearby capital of France.
Now, while this helped with improving the image of the park I suspect one of the big difference for Brits came in 1996 when Eurostar began running direct trains from London.
But that's just my opinion.
Further Visiting Tips
Here are some more tips to help you have a great time at Disneyland Paris
Download the Disneyland Paris App
Take at least one water bottle each
Leave your shopping until the evening and do it in the Disney Village
Take plenty of plasters, including blister plasters
Get Disney autograph books before you go
How to keep the costs down when visiting Disneyland Paris
Here are some tips to help you reduce the cost of your trip to Disneyland Paris
Keep checking the website for deals
Take supermarket snacks with you to avoid expensive snacks and treats in the park
Consider taking out a meal plan
Affiliate Disclaimer
This Disneyland Paris Review and Guide contains affiliate links to Amazon UK and other retailers. If you click on a link and make a purchase we may receive a small commission. This commission goes towards the running of Travelbetter and helps keeps us independent. Thank you for your continued support.